Sadly our task day scheduled for Saturday 26 October was rained off, which allowed us watch the Rugby World Cup final but set us back a little on our preparations for Remembrance Sunday.
In order to catch-up and have the War Memorial and flowerbed areas looking the best they could we were also in the park on Tuesday 5th, when we added new commemorative flags and wreaths to the railings, Wednesday 6th and Friday 8th, when our volunteers worked closely with council operatives who were cutting the grass and clearing leaves from the park.
We were also in the park the week before to fix the Poppy Appeal Team's Street Poppies to the lampposts.
On Saturday 9th, as well as putting the finishing touches to the area where the Remembrance Service will take place, we picked litter, cleared leaves from around the library, mowed the lawn in the Band Room garden, trimmed shrubs and bushes around Hollins House and began work on clearing stones and seeding the the top section of the area used by CRT as their compound during the refurbishment of Lock 11. This is a new project that should see a wildflower meadow in the park next summer.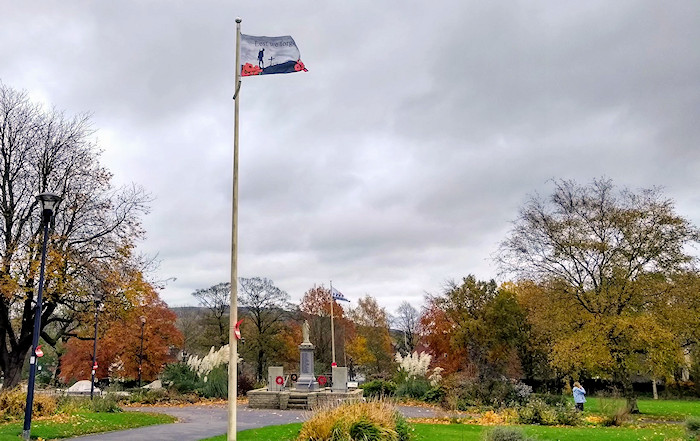 While doing all this we had a large supply of cooking apples for visitors to the park to help themselves and they kindly left over £33 in our collection bucket to show their appreciation of the work our volunteers do.
Happy to Chat Bench
In addition to all this, following creation of the first Marple "Happy to Chat Bench" on Derby Way in September this year, Friends of the Park have now created a second Marple Chat Bench in Memorial Park. Read more about the Marple Happy to Chat Benches on the Marple Website.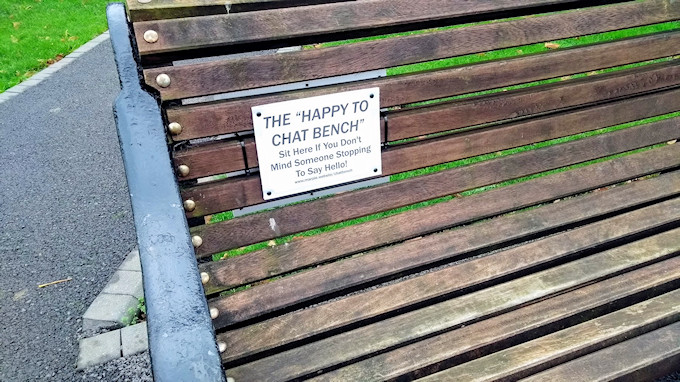 The bench chosen is one of the three on the slope overlooking the Bowling Green, which was felt to be a good place for people to stop and talk. As with all "Happy to Chat" benches anywhere in the country, we now need the community's help to make it work. So if you see someone sitting at this bench in the park please make the effort to stop and say "hello".