Basketball Fencing
In 2007 users of the Basketball Court asked the Friends of Marple Memorial Park if a fence could be erected around it because it was virtually impossible to hold a full game due to the ball disappearing off down the hillside every time it went out of play.
Throughout 2008 the Friends group worked towards achieving this aim and with the assistance of the council obtained planning permission for a fence on two sides of the court. In November 2008 Marple Area Committee approved the use of a commuted sum to fund the work which was almost enough to cover the cost of the fencing. The Friends were delighted to make up the small shortfall from their own funds raised at local events and the installation was completed early in 2009.
Planning Approval for Basketball Court Improvements
We're pleased to announce that work is due to start early in 2009 on the construction of a fence along two sides of the basketball court in the Teen Area of Marple Memorial Park. Users of the area requested the fence in 2007 because it is virtually impossible to hold a full game on the court due to the ball disappearing off down the hillside every time it goes out of play. Since then the Friends group have been working towards achieving this aim. Planning permission was obtained last year and the work will largely be funded from a commuted sum approved by Marple Area Committee in November 2008, with a small shortfall to be made up by the Friends of the Park. Here's a "before" picture and we'll update the web site once the work is underway.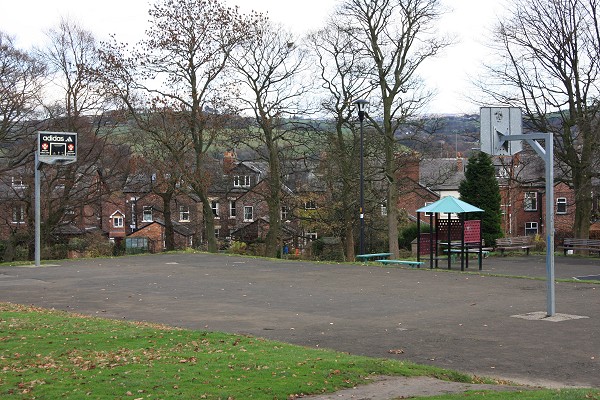 Update 25 January 2009
With very little fuss the construction of the basketball fence was completed this week. All that remains now is to finish off the access slope down to the Teen Shelter area (see inset photo). This should be done before the end of the month. The fence looks less intrusive than we thought it might and we hope that it will enable to users of the court to enjoy a better game of basketball.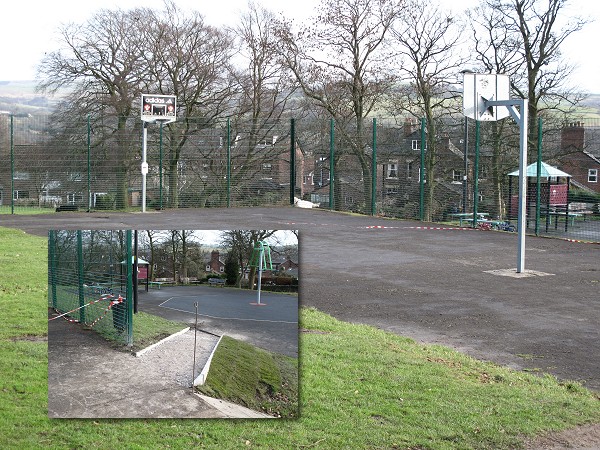 Update 8 February 2009
The work is all finished now, including the ramp down to the teen area, and on Saturday morning we added some new heavy duty chain nets to the baskets. These will hopefully improve the experience of users even more.
The Friends are interested in making more improvements to the teen area / skate park area in the future and would like to discuss with users what improvements they would like to see and how they could help. Use the information on our contacts page to get in touch or come along to one of our task days on the last Saturday of each month and tell us your ideas.