Pavilion Art Project Phase II
Commemorating the Dedication of Marple Memorial Park on 22 July 1922
Artwork installed on Monday 30 May 2022 by, left to right in last photo, Pete Kelly of Art Stop CIC, Mark Whittaker and Bernard Kelly (no relation).
The artwork can be viewed in close-up during Marple Carnival on 18 June 2022 and Friends of the Park Task Days.
It's funny how fate sometimes intervenes in such a positive way!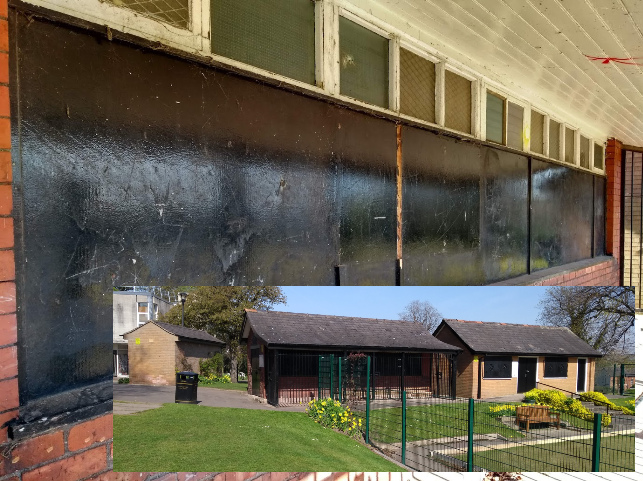 The idea of creating a large mural on the former Bowling Pavilion first occurred to Friends of the Park way back in April 2018. During discussions about maintenance of the building we realised that by removing an old disused noticeboard we could create a large blank "canvas" for a potential artwork project under the pavilion canopy.
Our committee of volunteers loved the idea because the pavilion was built by soldiers who returned from WWI in memory of their comrades who were lost. We wanted something that would be a wonderful commemoration of this but at that time the 100th anniversary of the park's dedication wasn't on our radar and we never made the link.
Potential art providers and sources of inspiration were discussed and a number of possibilities were explored before we linked up with the wonderful Art Stop CIC Team of Tracy Mcguinness-Kelly and Pete Kelly in late 2019.
Tracy and Pete inspired us to also think about artwork on the other side of the building and the Pavilion Art Roundels idea came into being too.
Initial failure led to the perfect Lockdown Project!
We initially tried to find funding for a project to tackle both sides of the building at once but a £10k grant application to Awards for All in 2019 was unsuccessful.
We then decided to split the project into two phases and chose to focus on the Pavilion Art Roundels first, as it would have the greater visibility and involve more volunteer artists.
Then along came the Covid 19 pandemic and stopped most things in their tracks but the Pavilion Art Roundels proved to be the perfect project to adapt for Lockdown!
An earlier glimpse of the Phase II artwork being printed.
And here's the artwork ready for installation.
The park's centenary becomes the focus for Phase II
Thankfully, the delay in deciding on the exact theme for the artwork to go under the canopy resulted in the approaching centenary of the park's dedication coming into focus. Once we realised this would take place in the summer of 2022 it became obvious that fate had played its part and there really was only one choice for the artwork's theme.
The concept for phase II crystallised even more sharply when Mark Whittaker from Friends of the Park discussed ideas with Art Stop's Pete Kelly and the subject of the amazing photographs taken during the park's 1922 dedication came up. Mark showed these to Pete and the way forward became clear - we simply had to use them.