Brass Bands of MARPLE: 100th Birthday Picnic in the Park
Sunday 24 July 2022 between 2pm and 4pm
The Marple Band and Hawk Green Band will be helping the community celebrate the 100th anniversary of the dedication of Marple Memorial Park on Sunday 24 July between 2pm and 4pm.
The event will be similar to the very successful 2018 concert in the park, which was blessed with glorious weather as you can see in the poster image below. We hope this event celebrating the park's centenary will have the benefit of the sunshine too but the Senior Citizens' Hall is booked just in case the British summer doesn't play ball.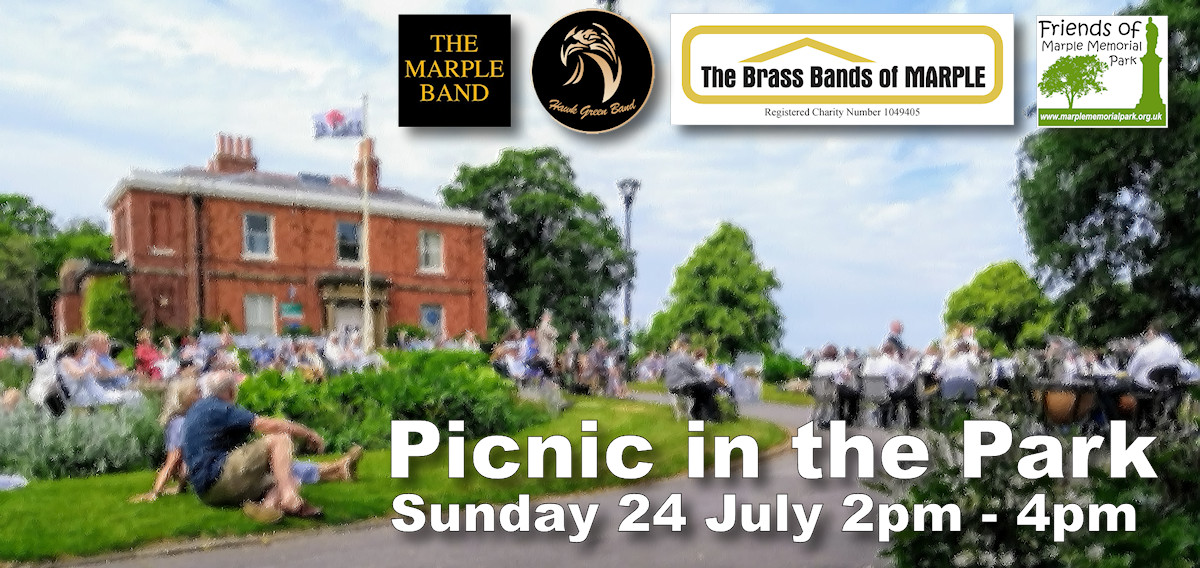 The Brass Bands of Marple's links to Memorial Park
The history of Marple and Hawk Green Bands are inextricably linked with Hollins Mill and the family who owned it and dedicated the land that is now Memorial Park. The former Park Keeper's Cottage is now their band room home too, so their links to the park remain strong and current. You will be able to read more about the history of the two bands at the exhibition '100 Years of Memorial Park at the Heart of our Community' by Marple Local History Society on display in Marple Library from 22 July to 30 July (during normal opening hours).
On the day...
If the weather is fine bring along a chair or blanket to sit and enjoy the bands' performances in front of the War Memorial.
This is a free concert but bring a few £1 coins too if you can spare them for the bands' fundraising collection buckets.