Bench Commemorating Corporal Danny Winter RM
The Friends of Marple Memorial Park would like to commend the family of Danny Winter for the magnificent granite bench that they have had installed in the park in his memory. We must stress that we do not claim any responsibility for this addition to the park and all credit must go to Danny's family. However, we would like to state that we feel it is a fitting tribute to a lost son and a very worthy enhancement to the park. The reason the park is here is because the land was originally given by the Carver and Barlow families in memory of the men of Marple who fell during the Great War of 1914 - 1918 and this makes it all the more appropriate that Marple's latest fallen son should be commemorated in this way. We sincerely hope that Danny will forever remain the latest addition on the memorial and there is never a need to add another.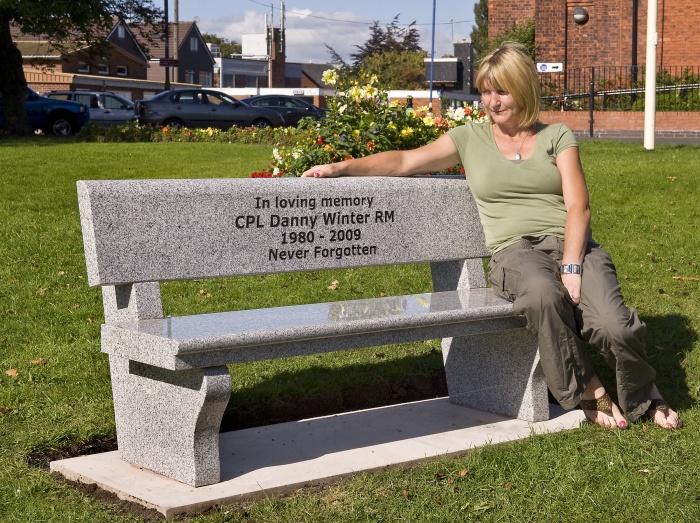 This picture of Danny's mother Caroline sitting on his Memorial Bench was taken by Arthur Procter on Sunday 20 September 2009.
Corporal Danny Winter, Royal Marines
Corporal Danny Winter was serving in Helmand province with the Mortar Troop of Zulu Company, 45 Commando Royal Marines. A specialist Mortar Fire Controller, his role within the company as the commander's mortar expert required him to provide intimate mortar support to the front line of the fighting troops. It was whilst operating in this role, ensuring the ranks of Zulu Company were supported, that he was killed.
Corporal Danny Winter, known as Dan, was born near Manchester on 20 June 1980, and lived in Stockport. He joined the Royal Marines in October 1996 and specialised in the mortars heavy weapons branch very early on in his career. Serving with both 40 Commando and 45 Commando he had served operationally in Northern Ireland and in Iraq on Operation Telic in 2003 where he was involved in the initial aviation assault of southern Iraq.
After returning from Operation Herrick in Afghanistan in 2007 he completed command training and his enthusiasm to deploy to Helmand for a second time was testament to his determined attitude. Corporal Winter was an extremely professional and dedicated member of the Unit Mortar Troop and he epitomised its unique ethos. He had a true passion for his specialisation and revelled in the small community of which he became a vital part.
Highly capable and determined, Cpl Winter was also exceptionally laid back and humble. He undertook everything with absolute gusto, whether it was at work, supporting his beloved Manchester United FC, or spending time with his family and partner Amanda, with whom he shared his life. His enthusiasm was infectious as was his smile, which always had a laugh not far behind it. His combination of attributes made him an irreplaceable character to be around. Unselfish and unswervingly loyal to all that knew him, he encompassed all of the qualities of a Royal Marine.
To read tributes from Danny's colleagues visit the MOD web site.