Thanks to Marple's Local Shops and Businesses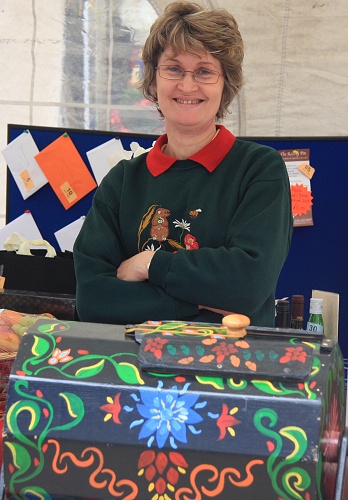 Local shops and businesses have shown us great support over several years by donating prizes for our fund-raising tombolas at local events like Marple Carnival, the Locks Festival, the Food and Drink Festival and the Marple Christmas Cracker.
This has helped us to fund many of the projects that you can read about on this site. We thank everyone for their support and applaud the great community spirit that abounds in Marple, which has helped us to achieve our aims so often.
We must also thank all our volunteers who help out on our stalls at these great local events and make very special mention of volunteer Micaela Wood. Without Micaela's fantastic efforts every year canvassing local businesses, collecting the prizes, thanking contributors and doing virtually all the preparation work in advance of each tombola event, our fund-raising would be nowhere near as successful. Since Micaela started doing Tombolas in 2007 they have raised:
A fantastic £6,270 for improvements to the park!
In addition to the Tombolas, in 2008 Micaela organised a special showing of the film "The Railway Children" at Marple's Regent Cinema that raised £562, making her one of Friends of Marple Memorial Park's most successful fund-raisers.
Contributors to our last Tombola at the 2016 Marple Festival, which raised a total of £521, are below in alphabetical order:
All Things Nice; Angkor Soul; Archers; Bare Necessities; Carver Theatre; Cheshire Hair Lounge; Claudio's Patisserie; Co-Op (Marple); Costa Coffee; Denise & Duncan's News; Experience-O.com; Forever Yours; Hair & Beauty Centre; Harrods; Helen Winterson; Hollins Building Supplies; Icing on the Cake; J H Neal Greengrocers; Liberty's Hairdressing; Littlewoods Butchers; Marple Bookshop; Marple Health; Marple Post Office; Mr Chips (Derby Way); Natalie Whittaker Art; No. 12; Paul Whittaker Plumbing; Pink Parrot; Poppy Floral Design; Regent Cinema; Ridings Opticians; Ring o' Bells; Roman Lakes; Room Eighty-five; Ruby Blue; S Duddy; Sew In of Marple; Star's 'n' Stripes; Stationery Supplies: Sue's Boutique; SVC Lighting and Electrical; The Antique Rose; The Crown Pub; The Linen Room; The Navigation Pub; The Parting Company; The Samuel Oldknow; The Sportsman (Strines); The Village Boutique; The Works (Hair & Beauty); Thorntons / Hallmark; Toymaster; Travis Perkins; Trek n Travel & Whittaker's Fish Bar.