Kärcher cleans Marple Memorial Park!
In June 2013 Friends of Marple Memorial Park won one of three top runners-up prizes in the "Kärcher Cleans Britain 2013" competition. Kärcher Cleans Britain, now in its third year, is a campaign which aims to encourage Briton's to clean up their streets and the top prize was a visit from Kärcher's Clean-Up Squad led by TV's restoration expert Sarah Beeney.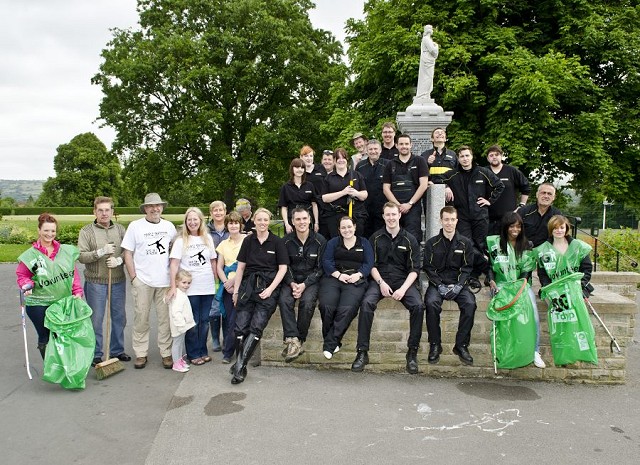 Although Sarah didn't come to Marple we did receive some fantastic prizes including a day-long visit from the huge Kärcher Clean-Up Squad and volunteers from Keep Britain Tidy. Local volunteers came along and joined in too and at one point in the morning we had more than 40 people helping to clean-up our park, which is our biggest volunteer day to date!
Marple Carnival Skate Park Event - 15 June 2013
As part of Marple Carnival, and our project to extend and improve the skate park, Friends of Marple Memorial Park held an event in the park on Carnival Day, Saturday 15 June 2013, with skateboard and BMX demonstrations, coaching and mini-competitions for skate park users - which are all things that skate park users have requested in our consultations with them.

The Carnival event was put on for us by professional extreme sports company Team Extreme and featured demonstrations from a professional skateboarder and professional BMX rider throughout the day. Team Extreme also provided a Compare / MC and in between the demonstrations the pros coached local skate park users and held some mini-competitions for skateboarders, BMX Riders and one for scooter users too.
Subcategories
Family Treasure Hunts in Marple Memorial Park
The Marple Branch of Julian Wadden Estate Agents worked with us to organise a Family Treasure Hunt in the park from 2015 until 2019.
The event is free to enter and money is raised by event sponsorship by local businesses, a raffle, with prizes also donated by local businesses, and donations from the public. It has grown in popularity each year since it began, raising £402 in 2015, £941 in 2016, £1,450 in 2017, £2,154 in 2018 and £2,807 in 2019 - a grand total of £7,644 to date.
Unfortunately the Covid19 pandemic stopped plans for the 2020 Treasure Hunt in its tracks and we've had an enforced 2 year break. In 2022, Friends of the Park are relaunching the Treasure Hunt as part of their celebrations and commemorations of the 100th anniversary of the Dedication of Marple Memorial Park over the weekend of 23rd and 24th July.