Local business support for Marple Skatepark Project
Marple Skatepark Project (Phase I) was an amazing success for Friends of Marple Memorial Park.
With fantastic support from the community we raised a total of £54,213 towards the project and this was match-funded by Stockport Council with a further £50,000. In the end, with a late grant from Life Leisure of £11,750 to tackle some unplanned extra work, we raised a grand total of almost £116,000 to complete and launch the new skatepark facility.
£10,300 of the money raised within the community was contributed by local businesses. The full story of the project and a record of all fund-raising is explained on the Skatepark Project page but this page has been added to acknowledge the great contribution from the Marple Business Community and to say thank you!
£10,300 Raised by Local Businesses for Marple Skatepark:
Please support these businesses because they are supporting your Community!
£2,516 donated by The Marple Website
The Marple Website - "The First and Best Community web site for Marple in Cheshire" is delighted to make another donation of £1,000 to the Skatepark fund from the banner advertising income on The Marple Website, the Marple Community Forum and the Virtual History Tour of Marple for 2015-16. This has been possible due to the excellent support of the local businesses who pay for low cost advertising on these sites. Follow this link to see who they are.

The purpose of the banner adverts on the sites is to generate income to cover running costs. This has been quite successful in recent years and has allowed the surplus income to be donated to local causes. In 2011 £1,000 was donated to Friends of Marple Memorial Park for their Diamond Jubilee Project. In 2012 The Marple Website became the main sponsor of the Marple Christmas Cracker with a donation of £1,000 to Marple Business Forum. £1,000 was donated to the Skate Park Project in 2014 and in 2013 a £500 donation was matched by Forever Manchester, effectively doubling our our money.
The 2015-16 donation takes the web site's contribution towards the Skatepark Community Match Funding to a total of £2,516.
Take a look here if you would like to support The Marple Website and local causes while promoting your business at very low cost!
£1,700 grant from the Co-Operative Community Fund
We were delighted to learn in March 2014 that our application to the Co-Operative Members Community Fund for a grant towards our match funding was successful. We're very grateful to the park's former next-door neighbour the Marple Co-Op for supporting our application and the Regional Committee for approving it.

See further down the page how the new Marple Asda is also getting behind our project too.
£1,688 Raised at Ring o' Bells Quiz Nights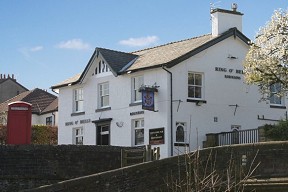 The Ring o' Bells has given fantastic support to Friends of Marple Memorial Park for many years. They hold a Quiz night every Thursday evening that raises money for all kinds of local charities and good causes and the park is often selected as beneficiary.
The most recent series of quiz nights held for us raised another £102, bringing the money raised by the pub for the Skatepark to a superb £1,632 so far. So a very BIG thank you to former landlords Mark and Anita and new landlord Mike Coleman at the Ringers for their fantastic support.
Don't wait for the next quiz for Friends of the Park before trying the Thursday night quizzes though, we recommend you go every week to support all the local good causes that benefit from the generosity of Marple's great Community Pubs!
£500 Donated by House-on-the-Hill Software Ltd
Friends of Memorial Park would like to thank local Marple business House-on-the-Hill Software Ltd for their generous donation of £500 towards our skatepark match-funding. Here's what they say:
House-on-the-Hill Software, as a local business, is pleased to support the community and especially to encourage young people to be active outdoors. Sadly, many people do not appreciate the skill and dedication that is required to become proficient with a skateboard.

We have 3 sons, the older two, Peter and Henry have had many hours of pleasure skateboarding with their friends in Memorial Park, so this is an opportunity for us to put something back.

House-on-the-Hill Software, first established in 1993, imparts extensive and comprehensive experience in the development, consultancy and training of the company's service desk software tool: SupportDesk.
Used within businesses of all sizes and sectors spanning over 40 countries, SupportDesk enables the provision of efficient, top-quality support, and excellent customer service.
£606 contributed by Marple Tavern and Woodstock Pizza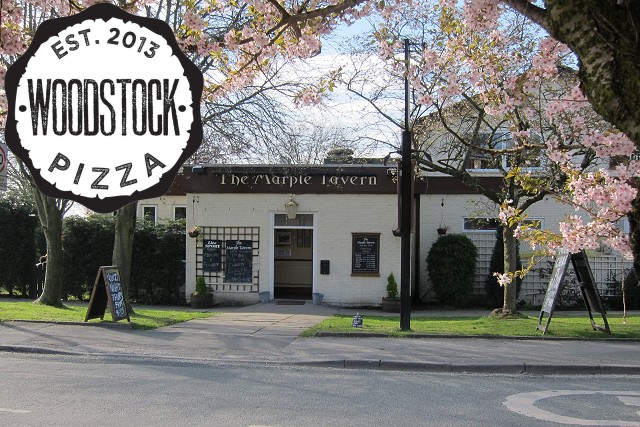 Following on from their support in 2013 with a Fun Day during Marple Carnival that raised £26, The Marple Tavern and Woodstock Pizza boosted their contribution to the Skatepark Project with a donation of £200 raised jointly by The Marple Tavern on Cross Lane and Woodstock Pizza, the mobile Clay Oven Pizza business that was run out of the pub.
In 2014 the then tennants of the Tavern got even more involved with the project by teaming up with Jason Saenz of Recon Cycle Repairs to organise a Charity Fun Bike Ride to raise funds for us and other worthy causes.  The event comprised a family bike ride along the Middlewood Way followed by a Fun Day afterwards at The Marple Tavern that included free burgers for participants, bouncy castle, side-shows and entertainment from local band Blank Cheque. It was supported by Moss Bank Homes and Stockport Homes and also raised funds for charities Tik Toc and the Stuart Fraser-Thomson Foundation.
The skatepark share of funds amounted to an excellent £380, so a very BIG thank you to Jason at Recon Cycle Repairs, Karen, Lisa and Simeone, former tennants and owners at The Marple Tavern and Woodstock Pizza and also Guy, a regular at the Tavern, for organising this brilliant event.

£568 Raised by All Things Nice
Local Deli, Cafe and Restaurant on Market Street All Things Nice gave us fantastic support in 2015 by helping with Marple Skatefest and by owner Rick's "Movember" moustache growing fund-raiser too.
The Skatefest music nights I & II at Hawk Green Cricket Club were a great success, raising a total of £2,103. £400 of this was contributed by sales of the Street Food donated free of charge, cooked and served on site by All Things Nice. They also contributed significantly to the overall success of the events by helping to promote them and sell tickets.
Rick at All Things Nice also raised another £168 for the project by growing a wonderful moustache during the month of "Movember", bringing the Deli / Cafe's contribution to a brilliant £568 to date.
£1,343 raised by Julian Wadden Treasure Hunts in 2015 and 2016
The first Family Treasure Hunt on 30 May 2015 was a free event but there was a collection bucket for donations to Friends of Marple Memorial Park, a raffle with prizes donated by local businesses and the programme was also sponsored by local businesses too. The event raised a grand total of £402 for the park and we would like to say a huge thank you to Julian Wadden Estate Agents for organising this event for us.
The second Treasure Hunt on 26 May 2016 followed the same format and raised a further £941 for the project, bringing the total for this cause to a brilliant £1,343.
Thank you to all the local businesses for supporting YOUR local community park! There are separate pages acknowledging supporter of the Treasure Hunt.
£250 Raised by the Hatters Arms
The Hatters Arms is Lewis's local and they've show great support for our project by selling shots for £1 each on Halloween Night 2015 and donating all the proceeds. This raised an excellent £155, so there must have been some sore heads the next day! The Hatters regulars also took part in "Movember" for the Skatepark and raised a further £95 for our cause, bringing their contribution to £250. A great community effort from a great community pub, thank you!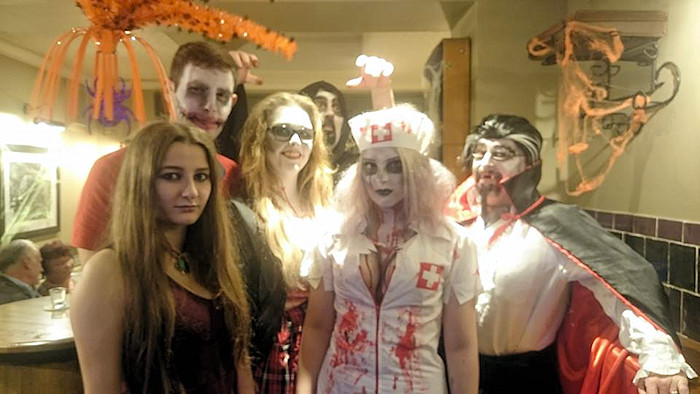 £250 from High Lane Garage
HLG counts Marple motorists as a high percentage of its client base. Known for handling quality pre-owned cars, especially Mazdas, Suzukis, Hondas and Toyotas, HLG is on the main A6 in High Lane, opposite the Red Lion Restaurant / Pub. High Lane Garage donated £200 early in 2014 and followed this up with another £50 at Christmas 2014.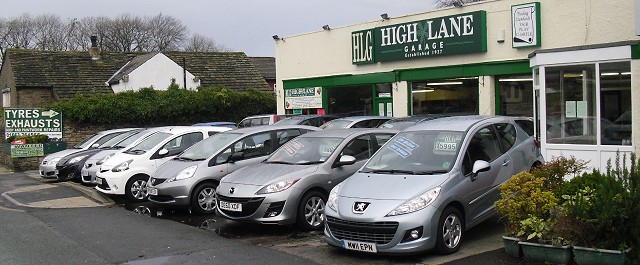 Our thanks go to Peter Murray, owner of High Lane Garage for his generous support of the Skatepark Project.
£235 Donated by Recon-Cycle Repairs and Sales (Marple)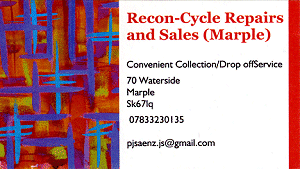 A new Cycle Repair and Sales business was started up in Marple in 2013 by Jason Saenz, who is helping to support the Marple Skatepark Project by donating a share of his profits to the Skate Park Match-Funding.
So far Jason has donated a total of £235 and he has also become a valued member of our Skatepark Project Team, supporting us at local events, organising a Charity Bike Ride and coming to our meetings with some great ideas.
So if you need a new or reconditioned bicycle, or need help with bike repairs and would like to help the Skate Park too, please use Jason's services.
£250 from Marple Asda plus great support!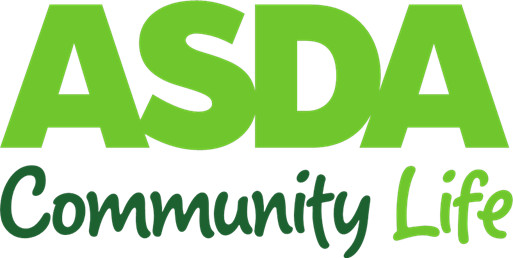 Since ASDA came to Marple in 2015 their new Community Life Champion has got right behind the Marple Skatepark Project and we've had a great response from the store. We won the Christmas "Chosen by You, Given by Us" green token vote in the store and received a prize of £200 from the Asda Foundation. We were included in a second round of the scheme too and won a further £50.
In addition to this, at Christmas Asda allowed us to collect in the store with Marple and Goyt Valley Rotary, which raised £901 for the project, and on our own with our hamper raffle and sweets competition that raised £458 too.
£100 donation from Nitrotek Ltd
Nitrotek Ltd, based in Marple's Goyt Mill at Hawk Green, is the #1 supplier of RC Models in the UK, selling the Best Radio Controlled Helicopters, RC Planes, RC Cars and Tanks. Here's what owner Omar had to say about becoming a local business supporter of Marple Skatepark Project:
We are happy to support the Skate Park campaign. It's a great project for the local community to help get the kids outdoors having fun and getting some fresh air. I used to love skateboarding when I was young and my weekends would be spent with my friends outside enjoying the hobby. Nowadays it's more difficult to encourage children to put the games console away and get outside so projects like this can really help by giving them something fun and sociable to do." Omar: www.nitrotek.co.uk

£100 donation from "Marple Health" Shop
John and Jean Dickson, who run Marple Health Shop on Stockport Road, got in touch with us after receiving a letter we sent via Marple Business Forum seeking support from their members. After a chat with John about the project we received a generous donation of £100 and a fantastic letter of support. Here's what John and Jean, shown below, had to say:
"We are enthusiastic to be included in the excitement around the expansion and refurbishment of The Skate Park in Marple's Memorial Park. We are keen to encourage the enjoyment of the open spaces that surround us and the community/cooperation that we think this facility engenders.

The skateboarding venue has been a popular focus for a wide variety of users ever since opening thirteen years ago, it has become an established recreation centre and with this planned upgrading we are sure that it's appeal will widen.We will not be using the facility, although we do have pensioners' concessions to draw on if we have a change of mind, but do know many who's children and grandchildren are regular visitors. Hence we are happy to make a donation of £100 towards your campaign."
Thank you to John and Jean at Marple Health Shop!
£100 donated by Marple Business Forum
Marple Business Forum represents the retailers and businesses of Marple.
Their aim is to promote the town and act as a discussion forum for local businesses at their regular meetings.
They also do some great work in the community including organisation and participation in local events such as Marple Carnival, Marple Locks Festival, the Food and Drink Festival and the Marple Christmas Cracker. The forum has often supported Friends of Marple Memorial Park with their projects over the last 10 years and in May 2014 once again showed fantastic support by donating £100 towards the Skatepark match funding.
Are you in business in Marple?
Then why not join the Marple Business Forum and reap the benefits straight away.
£64 donation from Trident Electronics
When Trident Electronics were approached to renew their advertising banner on The Marple Website they kindly offered to round the normal £36 annual payment up to £100 in order to support the community work of the web site, so the balance of £64 has been paid direct to the Skatepark Project.

Trident Electronics are local experts in Security Alarm Systems, Fire Alarms, CCTV and Access Controls.
£30 donated by Inkbox of Marple
Inkbox of Marple, the Print Cartridge, Printers and Office Supplies shop on Market Street, supported the project with a collection box for customers to put change in between 1st March and 31st May 2015. The collection raised £14.30 and Inkbox themselves have rounded that up to £15 and then matched it, giving us a total donation of £30.

Thank you Inkbox - the support of a small local business like yours is much appreciated!
We also received great support for our special event at Marple Carnival in 2013.
Full details of this event and the contributions from local businesses are featured here.