Well it was certainly a contrast to last time and to be honest rather too hot for working, so thank you to our wonderful volunteers for braving the heat. It was a good day to be Flamingoed by those Crazy Lingos though, and it was great fun to surprise our volunteers with a display of pink flamingos to help raise funds for Marple Guides' trip to Mexico next year.
Anyone can do this for just £5 a time and it's a fun way to surprise friends or family when they open the curtains on their garden in the morning to see a flock of pink flamingos has landed. See Marple's Crazy Lingos on Facebook if you are interested.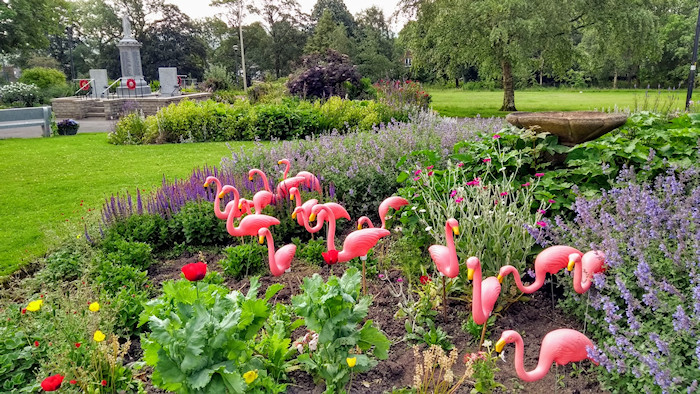 Before it got too hot we managed a variety of tasks including mowing the bandroom lawn and clipping their hedge, flowerbed maintenance, litter-picking, pruning of shrubs and treating benches. We also nipped down to the Hollins to do a little work on one of the benches we are refurbishing there to raise funds for the park. A very unusual job was injecting the woodworm-holes in the tree sculpture behind the library to try and keep it for as long as we can.
We sold some surplus plants and, along with donations from visitors, raised just over £13 for the park. One of our volunteers also spent time engaging with park visitors about our new 50-50 Club initiative that we hope to launch in September.